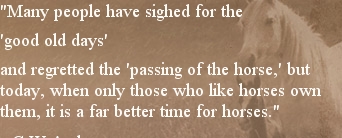 Horses Available For Sale Now!

1. RMHA Black Filly 2 years old $150​0.  She will mature around 15 hands

2.  3 - 4 year old fillies $2500 each black and sorrel green broke​.  KMSHA

3.  19 year old stallion $2500.  Gentle.

All horses are current on their shots and worming. All have been lightly halter trained. One mare was broken but has not been ridden since certified to breed.  All should mature around 15 hands.

Call Steve at (720) 301-9000 to set up an appointment.

<script>

  (function(i,s,o,g,r,a,m){i['GoogleAnalyticsObject']=r;i[r]=i[r]||function(){

  (i[r].q=i[r].q||[]).push(arguments)},i[r].l=1*new Date();a=s.createElement(o),

  m=s.getElementsByTagName(o)[0];a.async=1;a.src=g;m.parentNode.insertBefore(a,m)

  })(window,document,'script','//www.google-analytics.com/analytics.js','ga');

  ga('create', 'UA-69792963-1', 'auto');

  ga('send', 'pageview');

</script>

​ 4 Year olde fillies $2500